Wired/Wireless Networking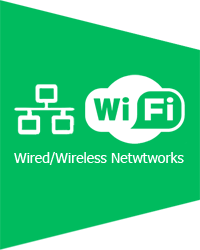 Just
about every piece of home entertainment equipment and gadget is now capable of wireless internet connectivity. From Computers and Laptops, to Mobile Phones and Games Consoles, even most modern TV's are capable of downloading and sharing content from other computers or the Internet.
PC Care can expertly advise on the best hardware and implementation of Wireless Networking equipment and how to eliminate dead spots or areas of week signal, to ensure that all your wireless devices remain connected no matter where you are in your home or garden. We can also show you how to make your wireless network safe and secure from potential identity thieves or fraudsters.
In certain situations a wireless networking solution may not be practical to implement or you may prefer the cast iron reliability, super fast speed, and added security of a wired network.  PC Care can design and install a wired network and all appropriate cables, hubs, switches and routers to get your devices connected and sharing the internet, files, music, pictures and videos across a cabled network within your home or office.