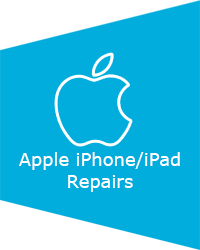 PC
Care can repair your damaged or faulty iPhone or iPad.
Common problems repaired are:-
Smashed/cracked screens
Dead battery or battery not holding charge
Damaged charging port/dock connector or lighting port
Damaged headphone socket
Faulty buttons (volume control, home button, power button or lock button/switch)
Free local collection/delivery service available (within 10 miles of Dronfield) or courier service available. For a quote on a repair to your iPhone/iPad
contact
us at PC Care and let us know the generation/model of iPhone/iPad you have and the fault. We will then give you a free no obligation quote.  
Click here
 for a quick and easy
email contact form
.