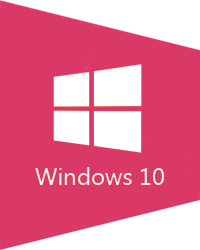 Well
it is finally here, the launch date for Microsoft Windows 10.
Microsoft have announced that they will be rolling out the free upgrade for Windows 7/8 users in waves, so don't panic if your device hasn't informed you that your reserved update is ready yet. Due to the massive nature of rolling out such an update to literally millions of devices it could take a few days before the update downloads to your device and informs you its ready to be installed.
For those of you itching to get Windows 10, once notified by the Get Windows 10 app that your upgrade is ready, it should be a case of simply following the onscreen instructions and depending on the speed/specification of your system, it should be done in about an hour.
As always PLEASE ensure you have a full backup of all your photos, documents, music, videos and files. Although the upgrade should perform an in-place update of your existing Operating System, errors can always arise and data loss can sometimes occur.
If you have any concerns or worries about performing the upgrade or are not confident in performing the upgrade yourself, please feel free to
contact us
at
PC Care
and we will happily arrange to perform the update for you.
For those of you that are a little more cautious and aware that any new Operating System will inevitably have bugs and glitches and take weeks of updates and patches being rolled out to address the major flaws then there is no hurry to update. Once the download has completed to your device and you have been notified that it is ready to be installed, there should be an option to decline installation and to wait until a time that is convenient for yourself.
Over the coming weeks we will be posting that latest news about Windows 10 and a few guides to some of the new features and functions available in the new OS.
To check that your device has a copy of Windows 10 reserved and that it will be downloading your update in one of the upcoming roll out waves, simply click on the Get Windows 10 app icon in your system tray and you should see a screen similar to the one below.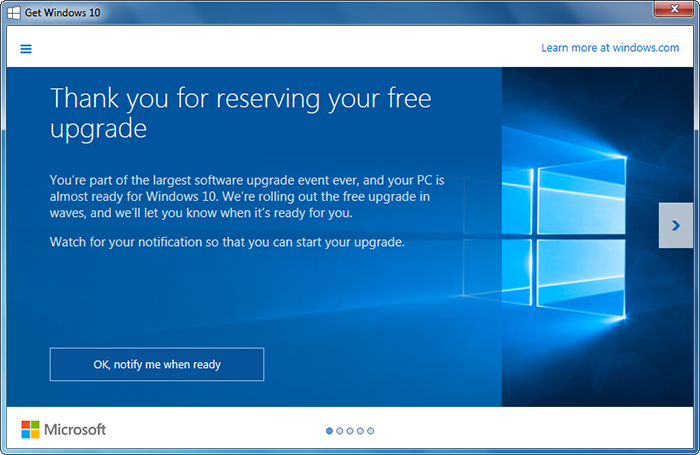 Simply click on the OK, notify me when ready button and once the Windows upgrade wave reaches the reservation for your device and the download has completed, you should get a notification pop up when its ready.
For more information on the Windows 10 upgrade you can visit Microsoft's Windows 10 site at: 
http://www.microsoft.com/en-gb/windows/windows-10-upgrade
Trackback from your site.