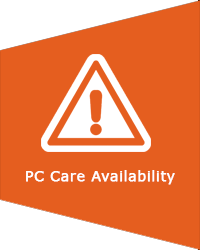 Update 26/11/14
Mike should be returning to work on Wednesday 3rd December. I would like to apologise to any PC Care clients who have been trying to contact me but with the unforeseen complications and Louise being out of action for 6-8 weeks due to her extended c-section I have been busier and more tired than anticipated. I would again like to thank everyone for their support and understanding and hope to be in touch with anyone who has contacted me over the course of the next week.
Update 27/10/14
After a few eventful days in the hospital and Louise deteriorating a little, she was finally given a blood transfusion and received a couple of units of blood. This has made a great difference and we are now all safely home and settling in. We would like to thank everyone who has sent cards, messages and presents for Sam.
Update 25/10/14
Baby Samuel Frankie Cheadle was safely delivered by c-section on the morning of Thursday 23/10/14. As the c-section was not as straight forward as hoped, Louise had to undergo an extended section and as a result lost a lot of blood (nearly 3 litres) and as a result is feeling very drained and sore, but bot mum and baby are doing well.
20/10/14
As some of PC Care's regular clients may already know Mike and his wife Louise are expecting their first child imminently. As there have unfortunately been one or two complications along the way the baby is due to be delivered by a planned cesarean section and thus Mike is taking a few weeks off while Louise recovers from the c-section and the new baby settles in.
The normal PC Care service should resume in a few weeks, but if you have any queries or problems in the interim please feel free to contact PC Care via the
Contact Us
link at the top of the page or the large button on the right. Mike will try his best to respond to any queries when he can, but please bear with him and have patience as the health and care of his wife and new family will understandably take precedence.
Thank you.
PC Care.
Trackback from your site.