Another two deliveries of Face Shields
Today a batch of face shields were delivered to the A&E department at the Queen Elizabeth Hospital Gateshead.
They were much appreciated by the Nurses, Dr's and Medical staff working there today.
Another batch have been prepared and are ready for delivery tomorrow.
The delivery to Knowle Green GP's has been received and are now in use in the practice.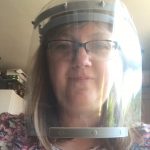 More donations are still coming in bringing the total raised so far up to £1520. Again thank you to everyone who has donated and hopefully the pictures above show just what a difference your donations are making.
I am currently working on adding a newsletter sign up to the website, so anyone interested can subscribe and be kept up to date with the progress being made in manufacturing and supplying 3D printed face shields to frontline workers.