New 3D Printer has arrived!
Its finally arrived, the new 3D printer to allow up-scaling production of vitally needed face shields.
The printer is now set up and printing its first batch of 30 face shield headbands. It will take over 30 hours for it to complete this task, as it takes around an hour per headband and it is printing 3 stacks of 10 simultaneously.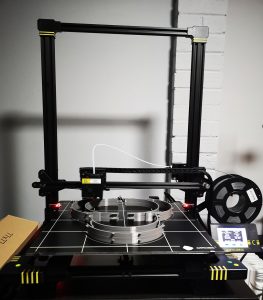 Another large batch of face shields were delivered to the QE A&E last night and they are now reaching a point where they have enough face shields to be going on with. Obviously there will always be more being produced and ready for delivery as and when they require more.
I am now starting to widen the field of frontline workers and hope to start delivering face shields to Nursing/Care homes, more GP's, Paramedics, community nurses etc.
If you or anyone you know requires protective face shields please do get in touch via the Contact page.